Jalapeno, Bacon & Cheese Stuffed Pretzel
Bacon and Cheese Stuffed Jalapeno Soft Pretzels, what a beautiful thing! Melty cheese; plenty of crispy bacon; and just enough fresh jalapeno to keep you on your toes. These stuffed pretzels are a game changer!
Hate bacon? Leave it out. Not a fan of cheddar cheese? Swap it out for another variety. Not into spicy food? Toss the jalapenos and add in a little rosemary! I think you get the gist.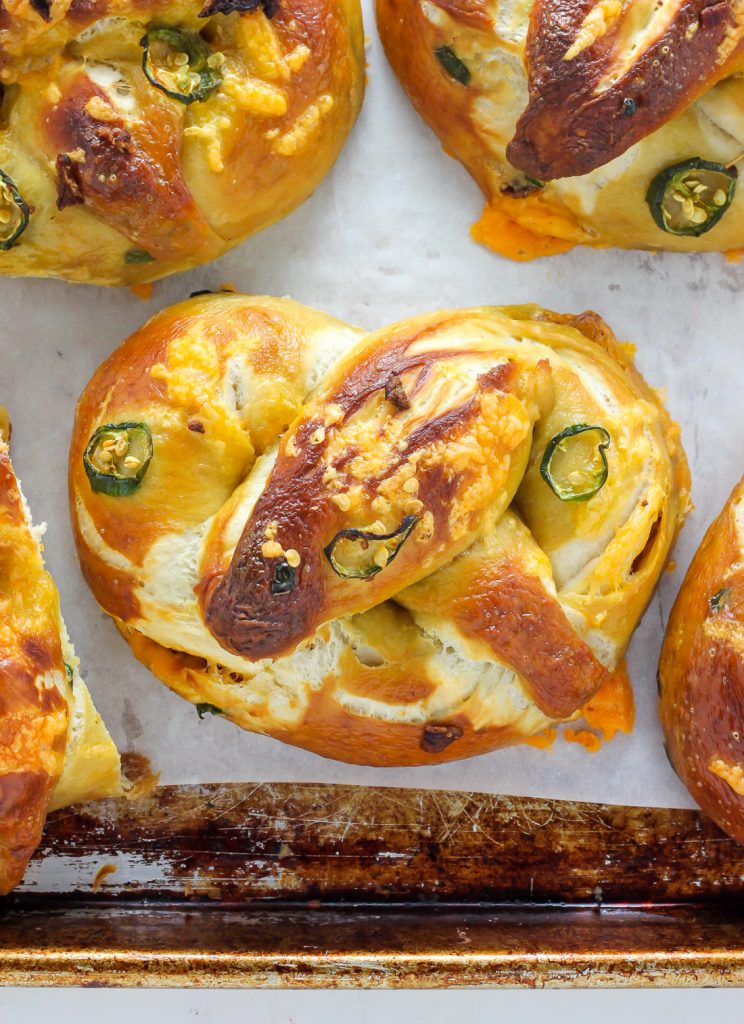 Pick the fillings you love, stuffed them in my master pretzel dough, and bake them to gooey, golden perfection.
Ingredients
1 1/2 cups warm water (between 110-115 degrees F)
1 package instant yeast
1 1/2 tablespoons sugar
2 teaspoons salt
4 1/4 cups all-purpose flour
6 tablespoons unsalted butter, very soft
2 small Jalapeños, minced (use only one for a less spicy pretzel)
Cooking Liquid:
8 cups water
1/2 cup baking soda
Filling:
12 strips bacon, cooked until crispy and roughly chopped
8 ounces cheddar cheese, shredded
Egg wash:
1 egg, beaten
1 tablespoon water
Toppings:
Extra cheese, bacon, and slivered jalapenos (optional)
For the full Cheese Stuffed Pretzels recipe visit Baker By Nature!