Wendy's Ushers in Autumn with a Pumpkin Spice Flavored Frosty
The fast-food giant adds a seasonal twist to its iconic dessert, set to launch on September 12.
As the leaves begin to change and a crisp chill enters the air, there's one more sign that autumn is truly upon us: the return of pumpkin spice flavored offerings in cafes and eateries. This year, Wendy's, one of America's most beloved fast-food chains, is joining the seasonal sensation with its announcement of a Pumpkin Spice Flavored Frosty.
Starting September 12, Wendy's customers across the nation can indulge in this new autumn-inspired treat, an exciting variation of the chain's signature Frosty dessert. For decades, the Frosty has been a fan favorite, renowned for its creamy texture and perfect blend of classic chocolate and vanilla flavors. This fall, the Frosty is set to embrace the spicy, warm notes of pumpkin, cinnamon, nutmeg, and cloves, embodying the very essence of the season.
Wendy's said the new flavor "merges the same creamy, delectable texture Frosty fans know and love with hints of pumpkin and a blend of warm spices like cinnamon and nutmeg for a taste of familiar fall flavors in every bite," in a press release.
Also for a limited time this year, Wendy's is adding a pumpkin spice-flavored cold brew coffee drink, which uses the "same delicious syrup from the pumpkin spice Frosty," it said.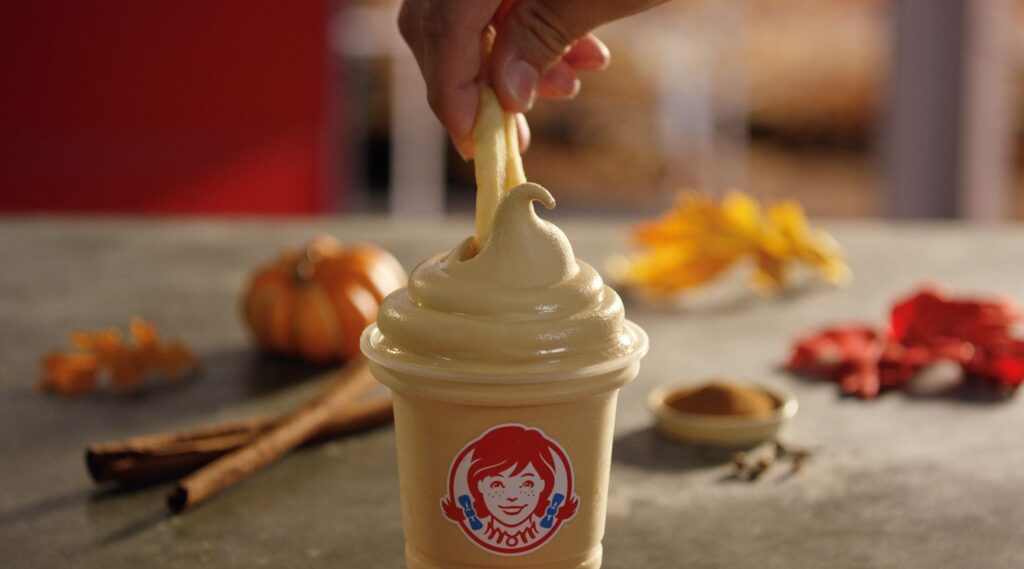 ---
Pumpkin Spice Frosty
Indulge in the essence of fall with this creamy and flavorful take on the classic frosty. The Pumpkin Spice Frosty is a delightful blend of sweet pumpkin, aromatic spices, and cool, velvety ice cream texture.
Ingredients:
2 cups vanilla ice cream
1/2 cup pumpkin purée (canned or fresh)
1/2 cup milk (can use almond, soy, or oat milk for a dairy-free option)
2 tbsp maple syrup or sweetener of choice
1 tsp pumpkin pie spice (or a blend of cinnamon, nutmeg, cloves, and ginger)
1/4 tsp vanilla extract
A pinch of salt
Whipped cream (optional, for topping)
Cinnamon sticks or additional sprinkle of pumpkin pie spice (optional, for garnish)
Instructions:
Chill Your Equipment:

Place your blender jar in the freezer for about 10-15 minutes before preparing your Frosty. This ensures everything remains as cold as possible during blending.

Blend Ingredients:

In your chilled blender, combine vanilla ice cream, pumpkin purée, milk, maple syrup, pumpkin pie spice, vanilla extract, and salt.
Blend on high until the mixture is smooth and creamy. Depending on the strength of your blender, this should take about 30 seconds to 1 minute. Avoid over-blending as it can cause the ice cream to melt too much.

Taste and Adjust:

Give your Frosty a taste. If you'd like it sweeter, add a bit more maple syrup. For a stronger spice kick, sprinkle in a little more pumpkin pie spice.

Serve Immediately:

Pour your Pumpkin Spice Frosty into chilled glasses.
If desired, top with a dollop of whipped cream and garnish with a sprinkle of pumpkin pie spice or a cinnamon stick.

Enjoy:

Serve immediately and enjoy the creamy, spiced flavor reminiscent of autumn's most iconic treats!
Tip: If you prefer a thicker consistency, you can add more ice cream. For a thinner, more milkshake-like consistency, simply add a bit more milk.
This Pumpkin Spice Frosty is the perfect treat for a cozy fall evening or a festive Halloween party. Enjoy the familiar comfort of pumpkin spice in a refreshingly new form!